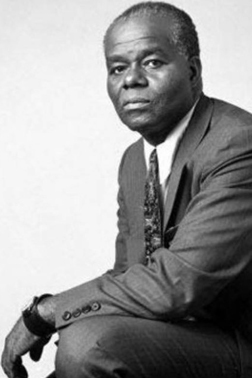 Principal Advisor
DR. JOHN HENRIK CLARKE
Dr. John Henrik Clarke • our beloved Principal Advisor – transitioned to the ancestors on July 16, 1998. A professor in the Department of Black and Puerto Rican Studies at Hunter College in New York City, he retired from Hunter in 1984, after 20 years of service, but continued to teach as an adjunct professor until 1987.
Born on January 1, 1915, in Union Springs, Alabama, Dr. Clarke, who never received a college degree, became the
founding president of the African Heritage Studies Association, an organization of world renowned scholars whose aim is to rescue and reconstruct the documentation of African history and culture. For over a half a century, Dr. Clarke dedicated himself to the interpretation and academic preservation of the historical and cultural legacy of African people.
A prolific writer, he was the author and editor of more than 20 books and wrote over 50 articles. Even though he had been legally blind since the mid-80's, Dr. Clarke wrote and read daily with the aid of a computerized reading machine which was purchased by a number of friends, colleagues and former students. After acquiring the reading machine in 1990, Dr. Clarke completed seven books. His more recent publications were New Dimensions of African History, African People in World History, and Malcolm X: The Man & His Times. His most ambitious work was Africa at the Crossroads: Notes for an African World Revolution, a collection of political essays and commentary.
Dr. Clarke described himself "first and foremost" as a Nationalist and a Pan-Africanist. In the final words which he wrote before transitioning to the ancestors, Dr. Clarke declared:"my feet have felt the sands of many nations, I have drunk the water of many springs. I am old, older than the pyramids, I am older than the race that oppresses me. I will live on … I will out-live oppression. I will out-live oppressors." "DETERMINATION"