The Nine Symbols in the ADACI Logo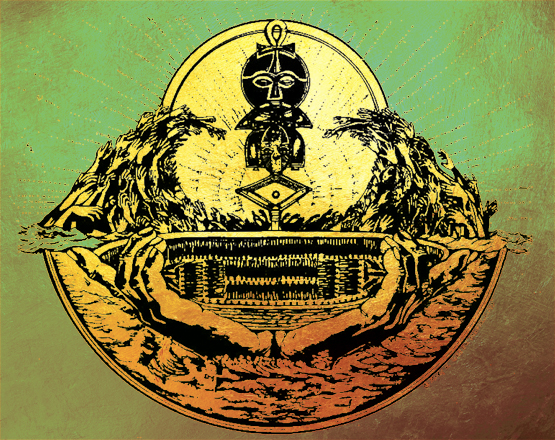 THE HALF CIRCLE CALABASH
The Coming Together and the Communion of Our Souls;
Also the Womb Holding Us Together.
THE WATER
The Ocean and Yemoja, the Yoruba Deity Symbolizing the Great Mother Ocean.
All Women Swell Up With the Ocean to Give Birth in Their Wombs;
the Great Mother of the Ocean Is Now Giving ReBirth To Us – the New Afrikan.
THE HANDS
The Ancestors on Whose Shoulders We Stand,
Who Are Lifting Us Up and Out of the Waters of
Spiritual, Mental, Emotional, and Physical Bondage.
THE SHIP
The Cocoon of Our Incarceration Here in America and Throughout the Diaspora.
THE REACHING AND RISING HANDS
Black Hands, Representing Ancestral Spirits –
Reach Out to Connect the Past with the Present from the
Representative Center of Our Collective Souls.
THE SUN
The Fiery Globe Whose Light and Warmth Creates and Sustains Life Itself.
Symbolized by the Rays Shining Thru the Afrikan Ancestral Guardian Figure.
The Sun Represents the Primary Element of Life, Revered by People of the Sun (Afrikans)as a Symbol of Power, Protection, and Prophecy.
The Circle Itself Symbolizes Perfection.
THE MBULU-NGULU
A Reliquary Guardian Figure from the Bakota People of Central West Africa,
Symbolizing the Protective Spiritual Guidance of Our Ancestors.
THE AKUA'BA
A Fertility Figure from Ghana,West Africa, which
Represents Peace, Protection, Perfection, Holiness, Beauty, and Godliness.
This Figure Also Represents the New Body of Our Afrikan ReBirth.
THE ANKH
The Ancient Kemetian (Egyptian) Symbol for the Key of Life, Eternal Life:
the Round Segment Represents the Womb; the Long Segment – the Phallus;
the Arms – the Child. The Entirety of the Symbol Represents the Complete Resurrection,i.e., Afrikan People's Triumph over Adversity
and the Continuity of Life over Generations.